Description
Get Super Boost Wifi In Every Room With This Best Wifi Booster
Consider getting this best wifi extender to help you out if your network is not reaching everywhere it needs to go. While mesh Wi-Fi routers may get the job done to cover a large area or a busy network, regular routers just won't cut it. And, if that's what you have, you'll need a bit of extra help. That's where this wifi network repeaters will come in handy. Issues of distance and an overwhelmed network may be overcome with this best wifi range extender as they give your router that much-needed support by extending your signal. This wifi signal booster increases the boundaries of coverage so that every nook and cranny has internet access while also minimizing interruptions to your signal. By doing so, you have a robust, uninterrupted signal throughout your personal or business space.

Key Features:

High speed

wifi extender

; Extending existing wireless network to hard to reach areas with speed up to 300Mbps, creating high speed, long range and stable networks.

The network name(SSID) of the WLAN access points must be set to "visible".

Plug and play: This

wifi booster

is easy to install and use. Designed with mobility and portability, little gadget with great value, ideal for home, company and travel in use.

This

wifi range extender

comes with WPS Button; Can be simply setup on your phone/iphone/tablet/laptop/PC within 5 minutes. Simply pressing the WPS button to get safe encryption. Support WEP, WPA, WPA2, WPA/WPA2 encryption methods to prevent unauthorized access and monitoring.

High compatible

wifi amplifier

.Ethernet port allows the extender to function as a wireless adapter to connect wired devices, Compatible with 802.11n/g/b devices, work with any wireless network, router and Wi-Fi enabled devices including Smartphone, iPhone, iPad, Tablet, Laptop, Desktop, Smart TV, TV BOX, etc. Repeater mode for stronger wireless performance and coverage and AP mode which creates a new WiFi access point.

How to set up the repeater mode:
Plug this

wifi repeater

into socket

 Connect to the wifi called "wifi repeater" on your phone/computer WiFi list (Not your existing wifi)

Open your browser and enter the IP address "192.168.10.1" on the URL bar (Not search bar)

Type in the username and passwords both "admin" to log into the next webpage.

Choose and click "Repeater" under the wizard.

Select your existing WiFi(which you want to extend) and click "Apply" to continue.

Change(or not) the Repeater SSID (default is WiFi Repeater); Type in your home wifi passwords.-- Please note the passwords here must be SAME as your home wifi passwords.

 Wait for its configuration.If finish please reconnect the new WiFi to get access into the internet.
Repeater Mode,One Key Connection:

If your WiFi router has wps, this unit is a snap to set up.

Just plug it into a wall outlet near your router.

Press the router's WPS button for 3-5 seconds.

Then press the WPS button on Flyisland Wifi Extender Repeater for a couple of seconds.

On your devices it will show up as whatever name your router is with the extension _ext.

When you need to use the extender, you log into your system through that with the same password you use for your router.
The connection is completed.

Specifications:
Maximum Wireless Data Rate: 300 Mbps
Color: Black,
Connectivity: Wireless,
Type: Dual-Band
WLAN access point/client: According to IEEE 802.11N/G/B
Support: 2.4GHz WLAN Network, AP/Repeater.
Supports: WEP,WPA/WPA2,WPA-PSK/WPA2-PSK encryptions.

Package content:
1x wifi booster,
1x user manual
Gallery: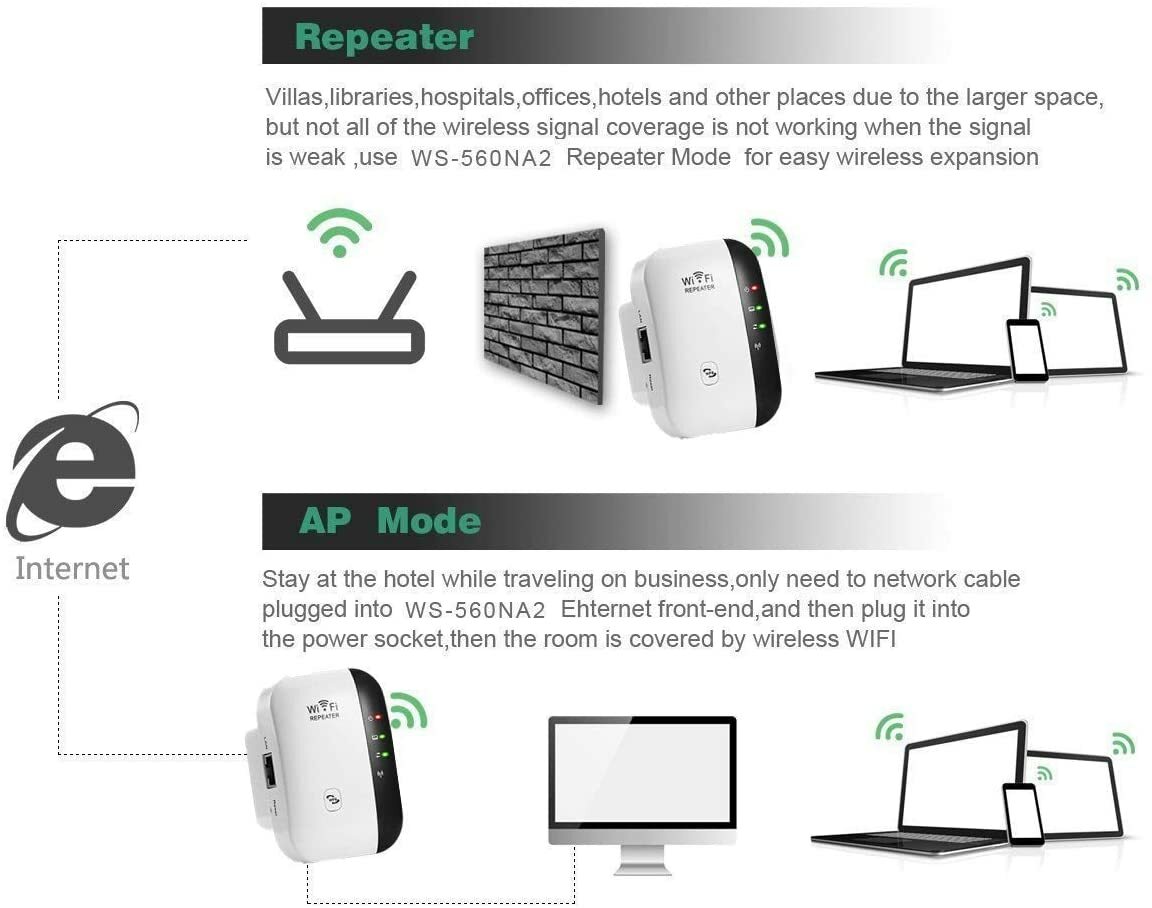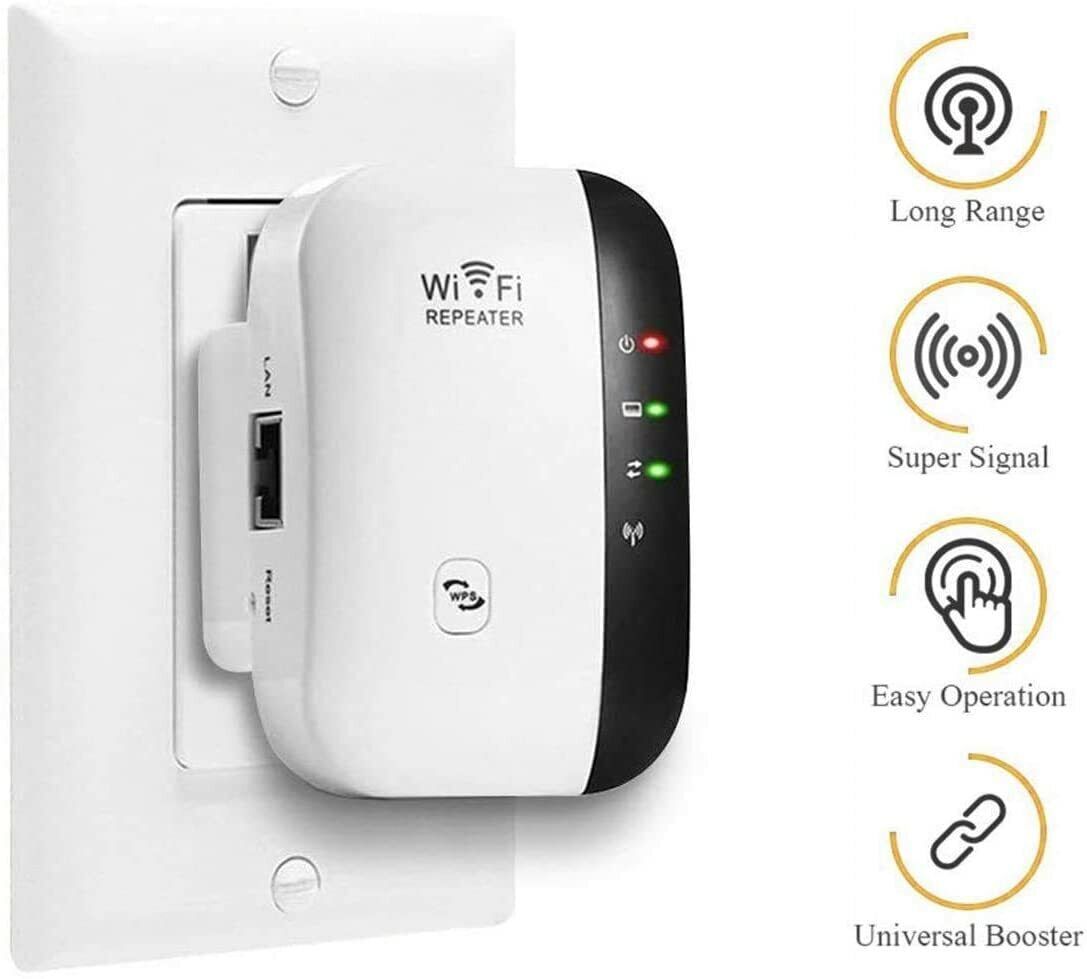 Customer Satisfaction
Return Policy Applicable
Free Shipping, no hidden prices or fees
Secure Payments via Paypal or Credit/Debit Card
Tracking provided for all your orders
Quality Inspection on all products
Found a Better Price? We'll Price Match!
Call (914)-512-8221

 FREE SHIPPING + NO SALES TAX (EXCLUDES NY)
Not Quite Ready to Get Your Product Delivered?
Are you looking to take advantage of a current sale but are not ready to receive your item? Not a problem! All orders from us receive special attention and we can hold items for as long as you need! Call us for more details.