Description
Have You Ever Tried Foot Massage At Home? Or Hydro Therapy Massage?
Feet are the foundation of our bodies and must be cared for appropriately. One of the most beneficial ways to soothe foot pain and relax is a foot massage with this best foot massager. Your tired and aching feet deserve more than just a basic massage and they're sure to get that with this hydrotherapy foot massager water machine. When you pop your feet inside this shiatsu foot massager/foot massage therapy you will experience a warm water, with bubbles as well as heat and air compression that provides you with a deep foot massage just like you experience in a  foot massage spa.

Key Features:

The therapeutic

heated foot massager

relieves tired ankle, feet, toe, heel, and the acupuncture ball and massage roller targets acupuncture points to improve feelings of general well being and promotes better sleep

Detoxifying bubble and vibration. This hydrotherapy

spa shiatsu foot massager

has 20 air jets to provide a relaxing bubble bath and detox feet to soften calluses and rough skin and vibration to stimulate feet muscles. You can also add essential oil for aromatherapy

Heated foot spa

equipped with adjustable time and heat. Equipped with a digital operation panel, this deep kneading heated foot and ankle detox spa features a heat adjustment of 95 - 118° f and time adjustment of 10 - 60 mins. includes pumice stone and brush attachment

Automatic start function. The rolling heating

foot spa

massaging machine will automatically start the bubble and red light when the water temp reaches 95°F and automatically starts the vibration massage when the water is heated to 108°F

Sleek ergonomic design. The ultra sleek lightweight design allows you to slide it under the bed or any closet for easy storage and it is also portable and lightweight so can use it at home while watching TV, reading, at the office, or just relaxing
Specifications:
Power Output: 500 Watt
Water Capacity: 2.3 Gal. (2.3 Liters)
Temperature Adjustment: 95 - 118° Fahrenheit,
Time Adjustment: 10 - 60 Minutes
Construction Material: Engineered ABS, Power Cord Length: 4.9' ft.
Power: 120V, Dimensions (L x W x H): 16.9'' x 14.9'' x 9.7'' -inches
Package content:
1x Hydrotherapy foot massager, 1x instruction manual
Gallery: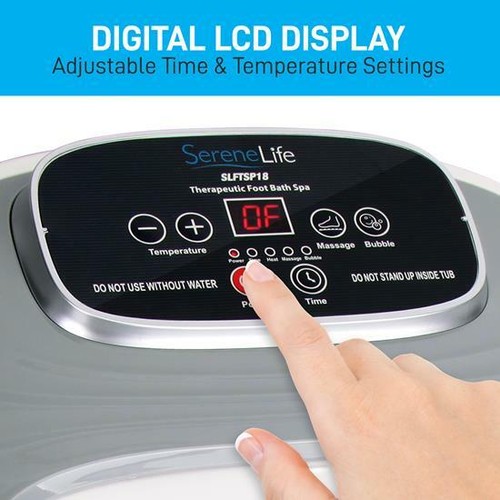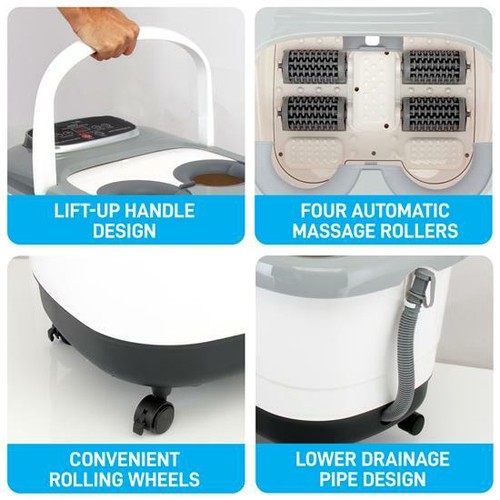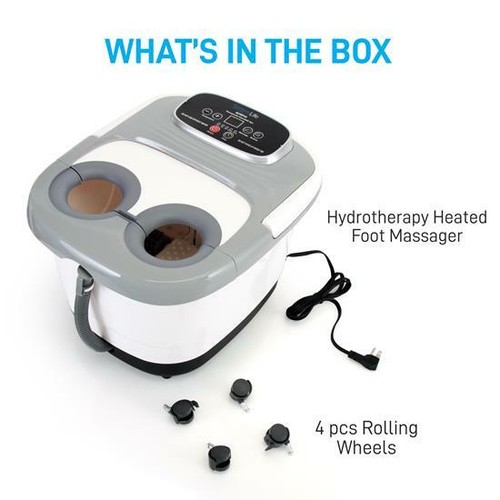 Customer Satisfaction
Return Policy Applicable
Free Shipping, no hidden prices or fees
Secure Payments via Paypal or Credit/Debit Card
Tracking provided for all your orders
Quality Inspection on all products
Found a Better Price? We'll Price Match!
Call (914)-512-8221

 FREE SHIPPING + NO SALES TAX (EXCLUDES NY)
Not Quite Ready to Get Your Product Delivered?
Are you looking to take advantage of a current sale but are not ready to receive your item? Not a problem! All orders from us receive special attention and we can hold items for as long as you need! Call us for more details.