Description
Capture The True Experience Of Traditional Italian Cooking With This Heavy Duty Stainless Steel Best Pasta Maker
Make your own delicious homemade spaghetti, linguini, fettuccine and angel hair pasta in the comfort of your own home with the Den Haven homemade pasta machine. Cook your ideal al dente pasta to pair with your favorite sauces, creams, and meats with this pasta maker machine. Enjoy delicious pasta creations using time honored culinary techniques with this pasta maker. Constructed of solid stainless steel, the pasta roller is built to last, giving you and your family the opportunity to create culinary delights for years.The easy click, adjustable dial of this pasta machine lets you roll dough to 9 different layers of thicknesses, ensuring the perfect homemade pasta creations. This best pasta machine includes 3 blade attachments for various styles of noodles. Make your own sheets of pasta to be cut into ravioli, tortellini, lasagna and so much more with this pasta maker. Easy crank handle is removable for your storage convenience. Pre-cut holes allow you to mount our pasta roller to countertops or kitchen islands. Stainless steel components are dishwasher safe and easy to clean.


Key Features:

Quickly creating deluxe nice-looking pasta; Turning the crank arm of this

best pasta maker

by hand to make the roller press the noodles instead of a traditional pressing method, including fettuccine, lasagne, linguine, spaghetti, vermicelli, angel hair, tagliatelle.

Food-grade materials

pasta maker machine

; Made of heavy-duty stainless steel with durable construction, the extruder works well and crank arm fitting snugly, the noodle-making tools will be your fantastic home kitchen hands.

Easy click adjustable dia in this

best pasta machine

; allows you to choose from 9 different thickness settings for the perfect dough.3 blade attachments. Detachable blades let you easily create 3 different types of pasta noodles. Removable handle; easy crank handle can be removed for storage. pre-drilled holes for clamping

Easy to clean

pasta roller

; Durable and detachable for cleaning,when cleaning the dough knife shaft, a small piece of dough can be passed through the dough knife shaft multiple times, after that, it is generally as bright as new.
Specifications:
Power Source: Manual,
Material: Stainless Steel
Pasta Shape: Linguine, Spaghetti, Fettuccine
Item Weight: 6 lbs,
Item Height: 9 in

Package content:
Stainless steel pasta maker and roller
Three (3) interchangeable stainless steel blades
Removable easy crank handle
Gallery: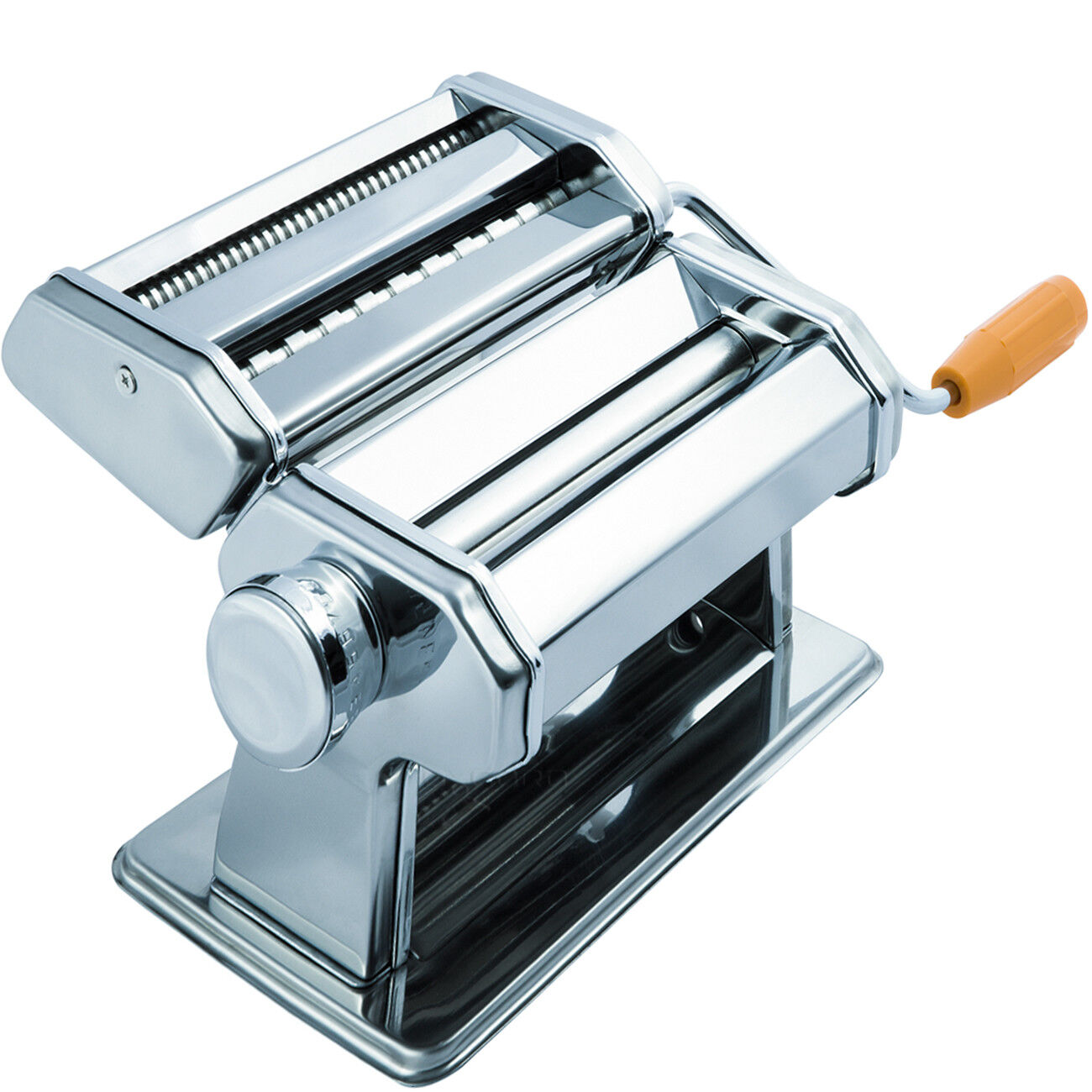 Customer Satisfaction
Return Policy Applicable
Free Shipping, no hidden prices or fees
Secure Payments via Paypal or Credit/Debit Card
Tracking provided for all your orders
Quality Inspection on all products
Found a Better Price? We'll Price Match!
Call (914)-512-8221

 FREE SHIPPING + NO SALES TAX (EXCLUDES NY)
Not Quite Ready to Get Your Product Delivered?
Are you looking to take advantage of a current sale but are not ready to receive your item? Not a problem! All orders from us receive special attention and we can hold items for as long as you need! Call us for more details.