Description
Take Your Home Gym To The Next Level With This Best Power Rack
The home gym might be the ideal location to get strong. But working out at home also often means going without the perks of a gym membership, namely, the wide variety of strength equipment like a power rack typically available at your local club. Not anymore. If you can manage the costs and you have the space, build your perfect home gym, starting with one of the best investments any serious weightlifter can make: a power rack cage (sometimes called a squat rack). This essential piece of home gym equipment, the home gym rack is now available at UrbanSupplyInc at a great price and includes a range of features. Unlike a cheap squat rack this squat cage is made with quality and will last forever.

Key Features:

This

power cage for sale

supports all workouts offered by squat stands and proves its versatility in extended activities such as pull-ups, deadlifts, chin-ups, curls as well as several other lifts.

Heavy Duty- This

power cage

is made of solid steel safety bars that are adjustable to a range of heights. This feature helps to catch the weight bar in case you fail to complete a rep and saves you from being crushed by the weight of the bar. Multi-grip pull up bars offer more positions to enhance upper body muscles.

Use this

gym rack

for versatile training- Any variation of Olympic weight bars can be used with power racks, which also provide support at a variety of heights. For you, this means that you may easily be able to change your routine from squats to bench presses as quickly as you please by simply adjusting the location of the catches and safety rods.

J-hooks in this

power rack for sale

can be adjusted to the right height for you to rack or unrack your barbell during both bench and squat workouts, while you can also use the 6 band pegs to get resistance training in with banded squat and bench press workouts.

Barbell and plate storage; Keep your gym or fitness space clean and organized with the power rack. The bar holders on both sides of the frame allow you to easily hook and store up to 2" Olympic barbells. 6 weight storage pegs give you ample bumper plate storage to get your weights off the floor and keep them organized.
Note: Please read the instructions carefully before assembling the product. If there is any problem with the item, please do feel free to contact us.
Specifications:
Material: Heavy duty steel frame
Color: Gray & Black, Length of pull up bar: 40.6"
Overall product dimension: 81.5" (H) x 65.4" (W) x 45.3" (D)
Adjustable height of the rack: 9.4"-56.7"
Length of safety bar: 13",
Weight capacity: 500lbs

Package content:
1x power rack,
1x manual instruction
Gallery: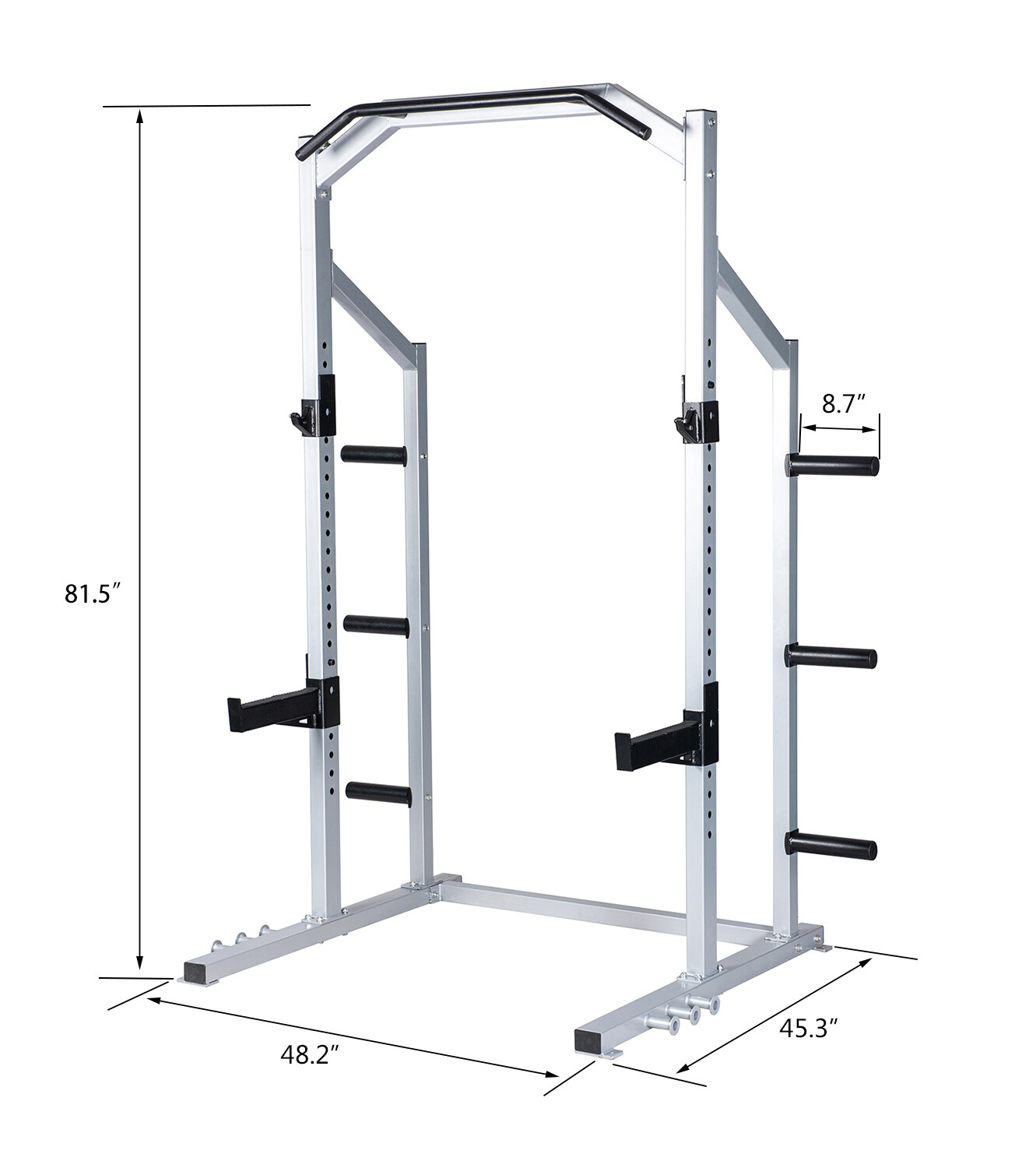 Customer Satisfaction
Return Policy Applicable
Free Shipping, no hidden prices or fees
Secure Payments via Paypal or Credit/Debit Card
Tracking provided for all your orders
Quality Inspection on all products
Found a Better Price? We'll Price Match!
Call (914)-512-8221

 FREE SHIPPING + NO SALES TAX (EXCLUDES NY)
Not Quite Ready to Get Your Product Delivered?
Are you looking to take advantage of a current sale but are not ready to receive your item? Not a problem! All orders from us receive special attention and we can hold items for as long as you need! Call us for more details.