Description
Make Your Outdoor Experience Romantic With This 2 Person Sleeping Bag
Most outdoor lovers would be hard-pressed to come up with a date more romantic than an evening under the stars. and when you're camping with your sweetie it's natural to want to snuggle up. Unfortunately, solo sleeping bags aren't exactly made for romance. Luckily, there's this couples sleeping bag which will give you the opportunity to snuggle up. When it comes to warmth, comfort and price, you can't beat this two person sleeping bag.

Key Features:

Comfortable & durable

double sleeping bag

: The lightweight warm sleeping bag camping bed is made w/ 210t polyester fabric, soft pongee liner, & 0.66 lbs./m2 hollow cotton making it super sturdy and extremely comfortable no matter how hard and rough the ground is

Special detachable design; This camping sleeping bag is detachable to two individual sleeping bags and can also be used as one large size sleeping bag which can accommodate two persons so couples and families can sleep sweetly together

Waterproof outer liner; Serenelife adult sleeping bag for camping has sturdy and waterproof outer liner to withstand harsh weather conditions & keep you warm & dry. It also has an anti-snag zipper & opens on left & right side making getting in/out easy

Lightweight easy to clean

best double sleeping bag

: This sleeping bag outdoor is easy to clean, warm, comfortable and washable. Has 5-10° Fahrenheit temperature rate to keep you warm and safe during the cold nights and the roll control design makes folding quick and easy

Complete set; The sleeping bag all weather has 2 pockets for your phone and comes complete w/ two large size travel pillows and a carrying bag. Designed for a couple, family, adults, teens & perfect for camping, backpacking, hiking, traveling and more
Specification:
Temperature Rate: 5-10° Fahrenheit,
Sold as: 1,
Weight: 7.74 lbs.
Construction Material: Fabric: 210T Polyester,
Liner: Soft Pongee,
Filling: 0.66 lbs./m2 Hollow Cotton,
Pillows Size: 12.2'' x 18.1'' -inches,
Product Dimension: Rectangular Style: 85'' x 57.1'' -inches
Package content:
1 Double Sleeping Bag,
1 Carrying Bag, 2 Pillows
Gallery: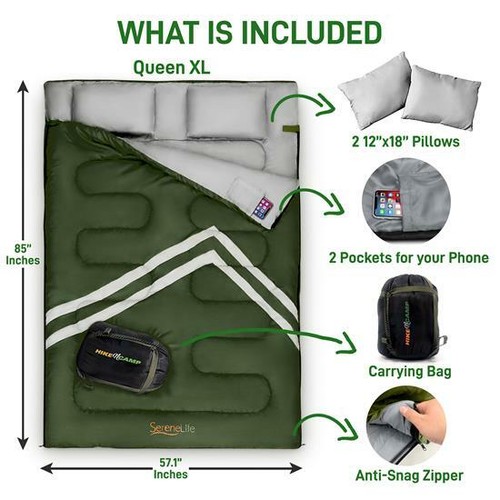 Customer Satisfaction
Return Policy Applicable
Free Shipping, no hidden prices or fees
Secure Payments via Paypal or Credit/Debit Card
Tracking provided for all your orders
Quality Inspection on all products
Found a Better Price? We'll Price Match!
Call (914)-512-8221

 FREE SHIPPING + NO SALES TAX (EXCLUDES NY)
Not Quite Ready to Get Your Product Delivered?
Are you looking to take advantage of a current sale but are not ready to receive your item? Not a problem! All orders from us receive special attention and we can hold items for as long as you need! Call us for more details.