Description
Experience The Comfort And Convenience Of Having A Continuous Supply Of Hot Water With This  Instant Hot Water Heater.
If you are buying the on demand water heater to overcome the cold this winter or for your hot water needs, you came to the right place. This is a high quality  tankless hot water heater, which uses LPG(Liquid Petroleum Gas) as the main energy source. When started, this instant water heater will supply endless hot water instantly without waiting. With a clear current temperature display and freely adjusting water temperature by gas & water outlet knob, this best tankless water heater gives you the hot water at the touch of the button, any time. Multi-level protections to ensure safety. This hot water heater is compact, wall mount and fashionable in look. A must-have home appliance for your room.

Key Features:

Effortless control; Clear LED display of current water temperature, rotate gas supply & water output control knob to adjust hot water temperature easily. This tankless

propane water heater

can also provide summer/winter mode to select for energy saving.

Different protection ways. Care much about safety on use, thus to adopt several protection methods, such as: Over 75℃ protection, low water flow protection etc. Also can start at low water pressure, come with a shower head kit as a gift.

Wall-mount design. It is light-weight, portable and tankless to install on the wall for space-saving. Copper standard G1/2" hose connectors, φ4.5" smoke exhaust pipe output(not included).

Diversible application; CE test passed, fast to heat, perfect for showering, pet washing, outdoor cleaning, camping and trip road etc. Provide you constant hot water, especially in winter or cold places. Instant endless hot water, ideal for camper, no electric hookup, trailer, RV, yacht. Enjoy a cozy showering at any time.

Higher burning efficiency. Use liquid propane gas(LPG) as main energy source, totally enclosed combustion structure, provide uniform fire and higher burning efficiency for gas saving. Auto shut down gas power under unexpected flame out, thus to ensure safety on use.

Exquisite details & connect. Standard G1/2" copper water inlet & outlet connector, anti-corrosion & non-broken after long-time high temperature use. Both have filtration mesh to filter impurities in water. Put in 2 "D" batteries into the bottom case to start this machine.

Quick install and wide use

portable water heater

. Instant 18L/min gas water heater, light-weight and space-saving. Wall-mounted design, shower in the bathroom while machine installed in the kitchen, avoid the risk of toxic gas leakage during bathing. Come with a shower head kit as a gift.
Specifications:
Heater Output Power: 36KW,
Hot Water Output: 18L/min(4.8GPM)
Gas Type: LPG(Liquid Petroleum Gas);
Gas Pressure: 2800 Pa
Water Connect: G1/2"; Rubber Gas Hose: φ 0.79"
Suitable Water Pressure: 0.02 MPa-0.8 MPa;
Starting Pressure: 0.015 MPa
Exhaust Way: Open & Force Flue Exhaust Type
Discharge Ways: Flue Automatic Gas Discharge
Ignition: Powered by 2pcs 1.5V Batteries (not included)

Package content:
1 x LPG Hot Water Heater,
1 x Shower Head Kit ,
1 x English User Manual
Gallery: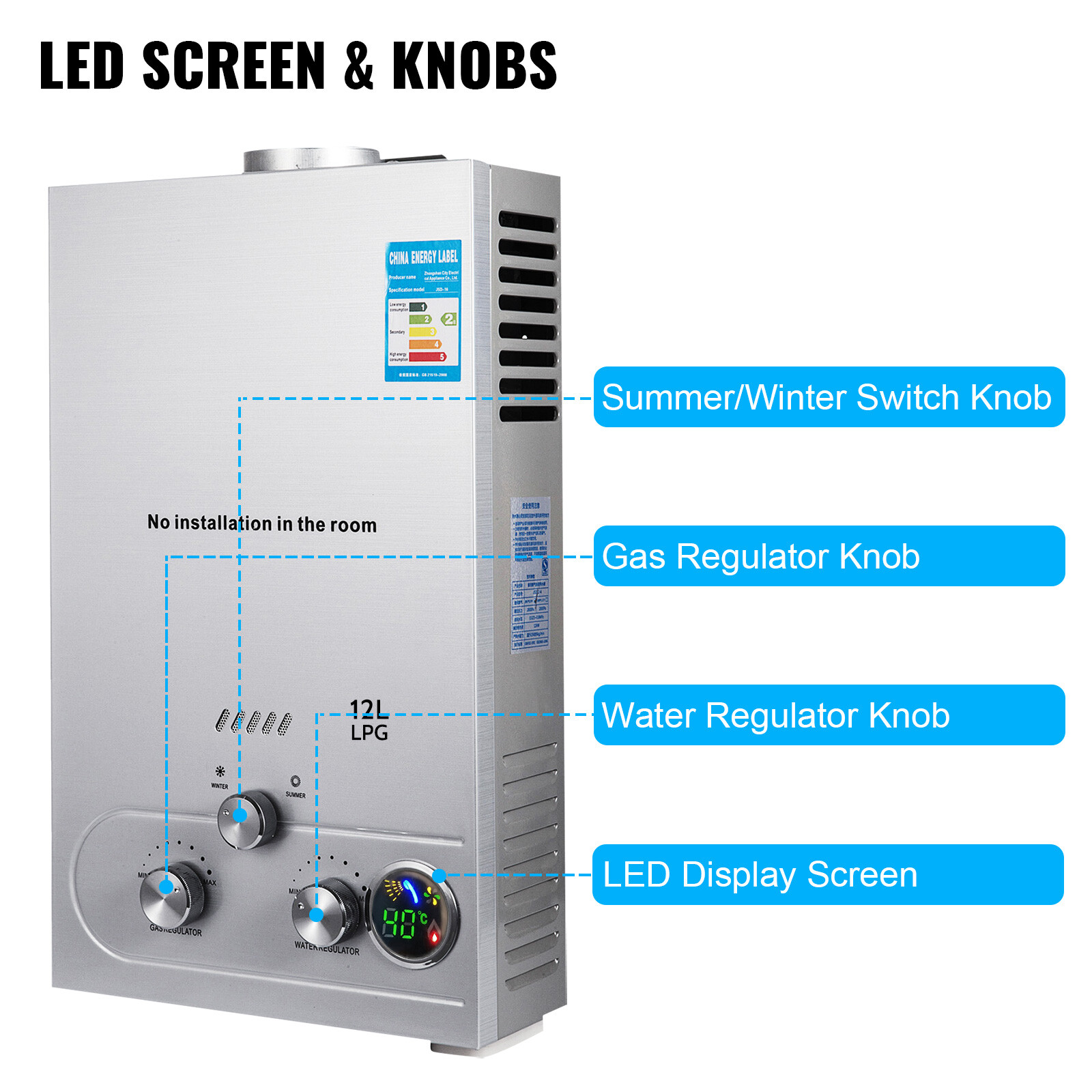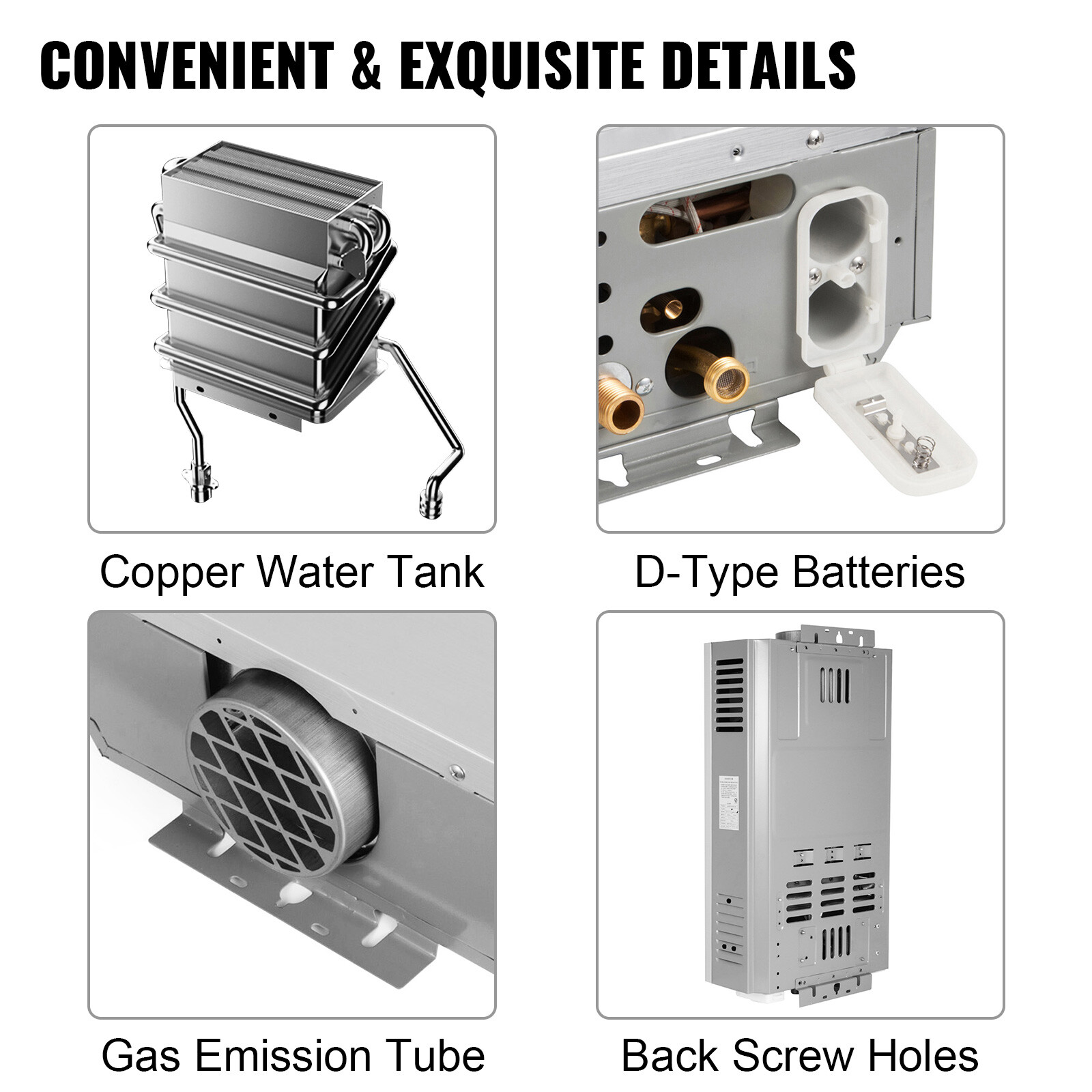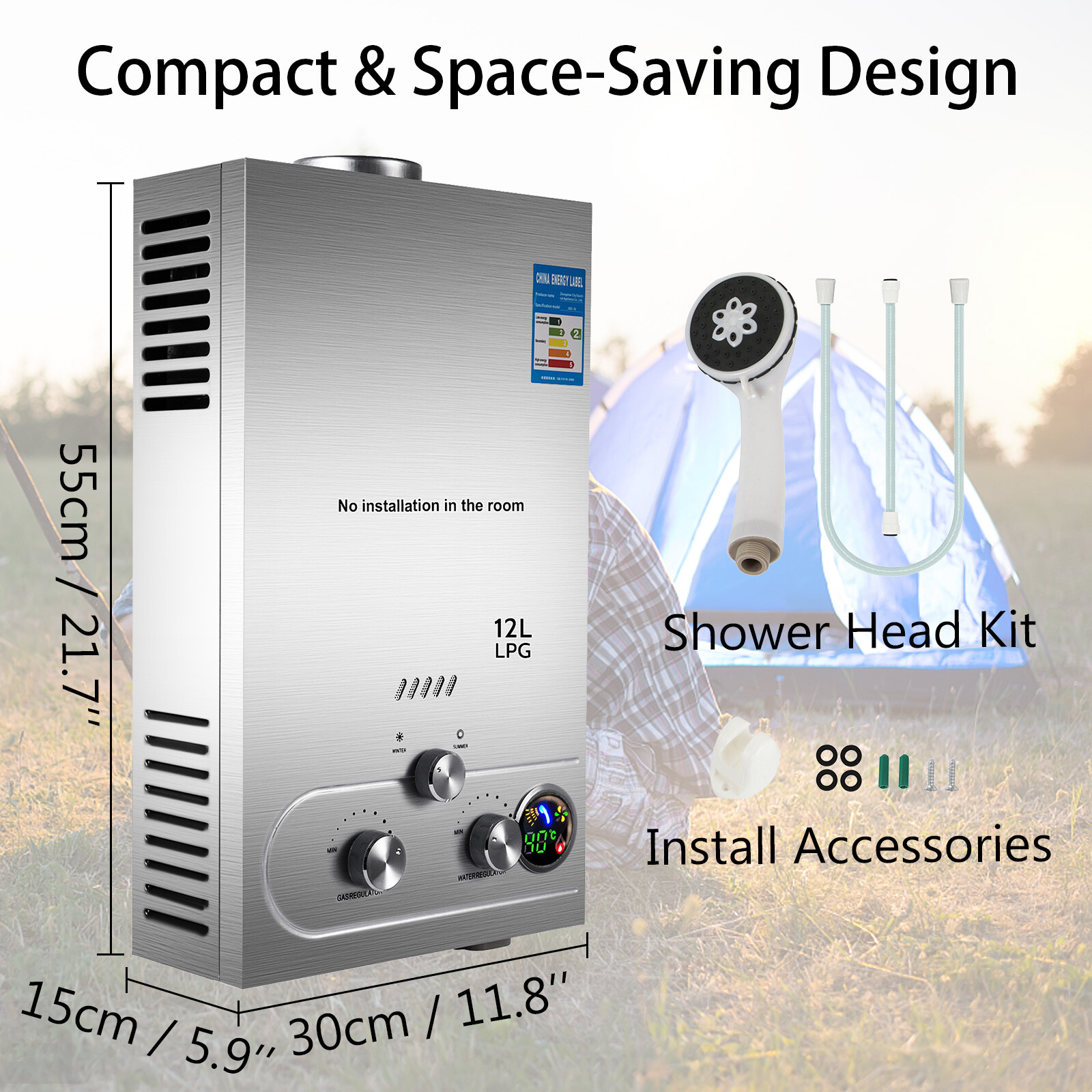 Customer Satisfaction
Return Policy Applicable
Free Shipping, no hidden prices or fees
Secure Payments via Paypal or Credit/Debit Card
Tracking provided for all your orders
Quality Inspection on all products
Found a Better Price? We'll Price Match!
Call (800)-603-6124

 FREE SHIPPING + NO SALES TAX (EXCLUDES NY)
Not Quite Ready to Get Your Product Delivered?
Are you looking to take advantage of a current sale but are not ready to receive your item? Not a problem! All orders from us receive special attention and we can hold items for as long as you need! Call us for more details.