Description
Are You Sitting Too Much? This Sit And Stand Desk Is For You.
Why do you need a standing desk or a sit stand desk? It's simple. You need more energy when you work and standing will keep your blood circulation and mind more active. When you are physically inactive, you tend to feel sleepy. Standing will make you more productive and help you accomplish more work than expected. This adjustable standing desk is designed with a spacious upper display surface and lower tier for your keyboard and mouse. Thanks to a gas-spring assisted lifting mechanism in this rising desk, height adjustments are smooth and require little effort. Ease and flexibility are truly at the heart of this adjustable desk design.

Key Features:

Embedded groove in this

stand up desk

holds most tablets or smartphones

Large Surface in this

computer stand

allows for 1 large monitor or 2 smaller monitors***

Stepless height adjustment in this

height adjustable desk

allows a comfortable standing or sitting position and allows you to get the precise height you desire

Gas-Spring lifting mechanism in this

standing computer desk

allows the desk to be easily moved up and down. Squeeze handle effortlessly activate and inactivate the height adjustment mode

Sturdy construction of this

standing table

keeps the desk stable even when fully extended. Non-skid silicone pads to protect the surface from scratches. No Assembly required
Note:  If you would like to have a dual monitor setup please place your monitors side by side and measure the total distance from one edge of the base to the edge of the opposite base.  If this distance is 31.5" or less then the bases of each monitor will sit fully on the work surface
Specifications:
Dimensions: 31.5" W x 24.2" D
Height Adjustable: 4.2" to 19.7" (top surface)
Max Load Capacity: 33 lbs
Color: Black
Material: Particle board
Gallery: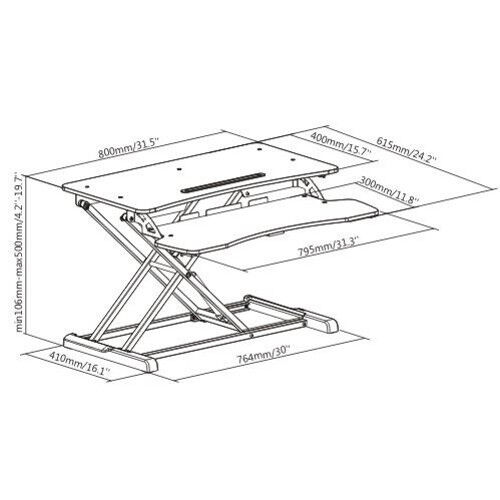 Customer Satisfaction
Return Policy Applicable
Free Shipping, no hidden prices or fees
Secure Payments via Paypal or Credit/Debit Card
Tracking provided for all your orders
Quality Inspection on all products
Found a Better Price? We'll Price Match!
Call (914)-512-8221

 FREE SHIPPING + NO SALES TAX (EXCLUDES NY)
Not Quite Ready to Get Your Product Delivered?
Are you looking to take advantage of a current sale but are not ready to receive your item? Not a problem! All orders from us receive special attention and we can hold items for as long as you need! Call us for more details.