---
Description
First Team OmniChamp Adjustable Outdoor Portable Basketball Hoop System
---
Are you looking for the best basketball hoop that can allow you to keep hooping while also being travel-friendly?
If so, our First Team OmniChamp Adjustable Outdoor Portable Basketball Hoop System is here to give you the experience of the best portable basketball hoop system in the market. Our portable basketball goal is suitable for both home and commercial use. You can easily put it in your driveway for the kids to enjoy playing with their friends. 
The distance of the base of the portable adjustable basketball hoop to backboard is 14" if the rim is at 10". This portable basketball system is easy to transport, and it just takes one person to move the outdoor portable basketball hoop from one place to another. 
To move the freestanding basketball hoop, you can pull the handle forward, which will bring the wheels on the floor. To move the portable basketball hoop unit forward, you just have to push it with the handle. 
Our portable adjustable basketball hoop is easy to move on the hard surface. You can move it on the toughest surfaces without any difficulty. Once you find a suitable place to put the nba hoop, you can place the handle back to lift the wheels up from the ground. 
Its distance from the front of the portable basketball goal to the back is 5 feet. Unlike other basketball hoop, the pole is made with one piece, which is different from sectional poles. This provides more strength to the basketball goal. 
Features
GREAT FOR BALL- Our portable basketball hoop is great for everybody of all ages to have a fun basketball game. You can keep the portable adjustable basketball hoop in your driveway to letting your kids enjoy the game. 
SAFETY-There are safety pads in the ball hoop that keep the players safe for layups. Even if they collide, the outdoor portable basketball hoop will absorb the impact.  
ADJUSTABLE- This freestanding basketball hoop is adjustable. You just need to push the latch behind the rim. It is easy to adjust the adjustable portable basketball goal, which makes one of the best portable basketball hoops ever.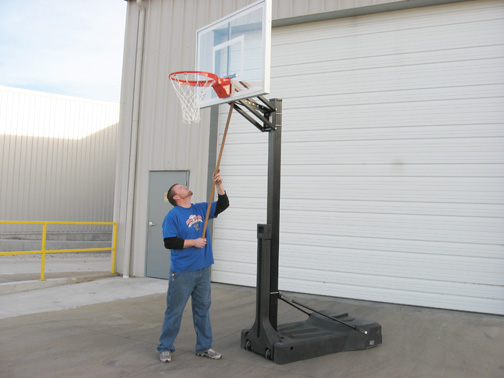 Each Order Includes
FT1101 4" Square Post
FT3003 Omni Base Tank
FT1200 Champ Arm System
FT184 Recreational /

 

FT186 Heavy Duty 

Flex  Goal
Lifetime Limited Warranty
Acrylic / Smoked / Tempered Glass Backboard

 

(Choose from the Backboard Options above)
Resources
Found a Better Price? We'll Price Match!
Build Your Package 📦
Find everything you need to make your house a home, all in one place at Urban Supply. Looking to purchase an appliance package bundle? Chat with an appliance expert. Call us for more details.