Description
These Handy Automatic Can Openers Can Tackle Large, Heavy Cans With Ease.
This electric can opener makes opening cans easier and safer. These best can openers particularly helpful for people who suffer from limited hand mobility or arthritis, or anyone who frequently cooks using canned ingredients. This best electric can opener features an easy to attach and remove lever which makes this opener easy for cleaning, and a magnet strong enough to hold the can on its own. In addition to ease of use, our UrbanSupplyInc reviewers looked for spillage, tipping, how clean the cut was, and if there was any metal debris leftover in the can and selected this best opener for you.
Key Features:

This

under cabinet electric can opener

is

tall enough to open a 7-inch-high can, which makes this electric can opener as practical as it is stylish.

It has a knife sharpener in the rear as well as push-in cord storage, allowing for tidiness on the counter.

The cutting lever removes for easy cleanup. Clad in gleaming black plastic, the opener measures 8-7/8 inches high, 4-1/4 inches wide at the base, and 3-1/2 inches deep.

When operating, a magnet flips down and grips the top of the can, then lifts it off when the can is removed.
Specifications:
Power Source: Electric
Voltage: 120 V
Color: black
Type: Extra Tall Can Opener
Material: Stainless Steel
Item Weight:1 lbs,
Item Height: 8-7/8 in.,
Item Width:4-1/4 in.

Package content:
1x electric can opener
Gallery: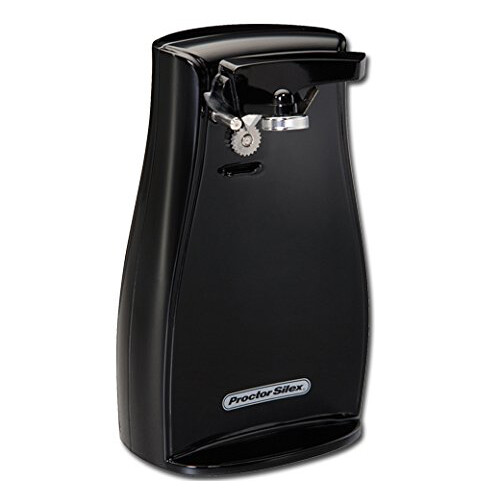 Customer Satisfaction
Return Policy Applicable
Free Shipping, no hidden prices or fees
Secure Payments via Paypal or Credit/Debit Card
Tracking provided for all your orders
Quality Inspection on all products
Found a Better Price? We'll Price Match!
Call (914)-512-8221

 FREE SHIPPING + NO SALES TAX (EXCLUDES NY)
Not Quite Ready to Get Your Product Delivered?
Are you looking to take advantage of a current sale but are not ready to receive your item? Not a problem! All orders from us receive special attention and we can hold items for as long as you need! Call us for more details.