Description
Classic Chinese Mahjong Game Set With A Modern Touch
UrbanSupplyInc prides itself on honoring Eastern traditions that translate well to enjoying your favorite games from anywhere in the world with these mahjong tiles for sale! The chinese mahjong game set is a tile-based game originated in China. It is a game of skill, strategy and calculation, involving a degree of chance. The tiles of this chinese mahjong set is durable and the mahjong set includes a storage box so this american mahjong set can easily fit inside and the game can easily be played just about anywhere with a flat surface.    

Key Features:

This

mahjong set for sale

comes with

Ivory color melamine tiles. This

mahjong game set

is made from scratch resistant melamine and are engraved

Beautiful chinese carrying case. These

mah jongg tile sets

are well organized and compact. The chinese case fits all the tiles and accessories perfectly.

This 

mahjong tile set

is fun for the whole family. 
Specifications:
Tiles: 146 Tiles includes 2 Blanks 2 Dice
Tile size: 1.25 x .75 inches,
Chinese Box Size: 10.5 x 8.5 x 2 inches
Includes: 36 characters, 36 bamboos, 36 circles, 16 wind, 12 dragon, 4 flowers, 4 season, and 2 blanks
Package content:
1x Mahjong game set,
1 x Chinese Box,
1x User manual
Gallery: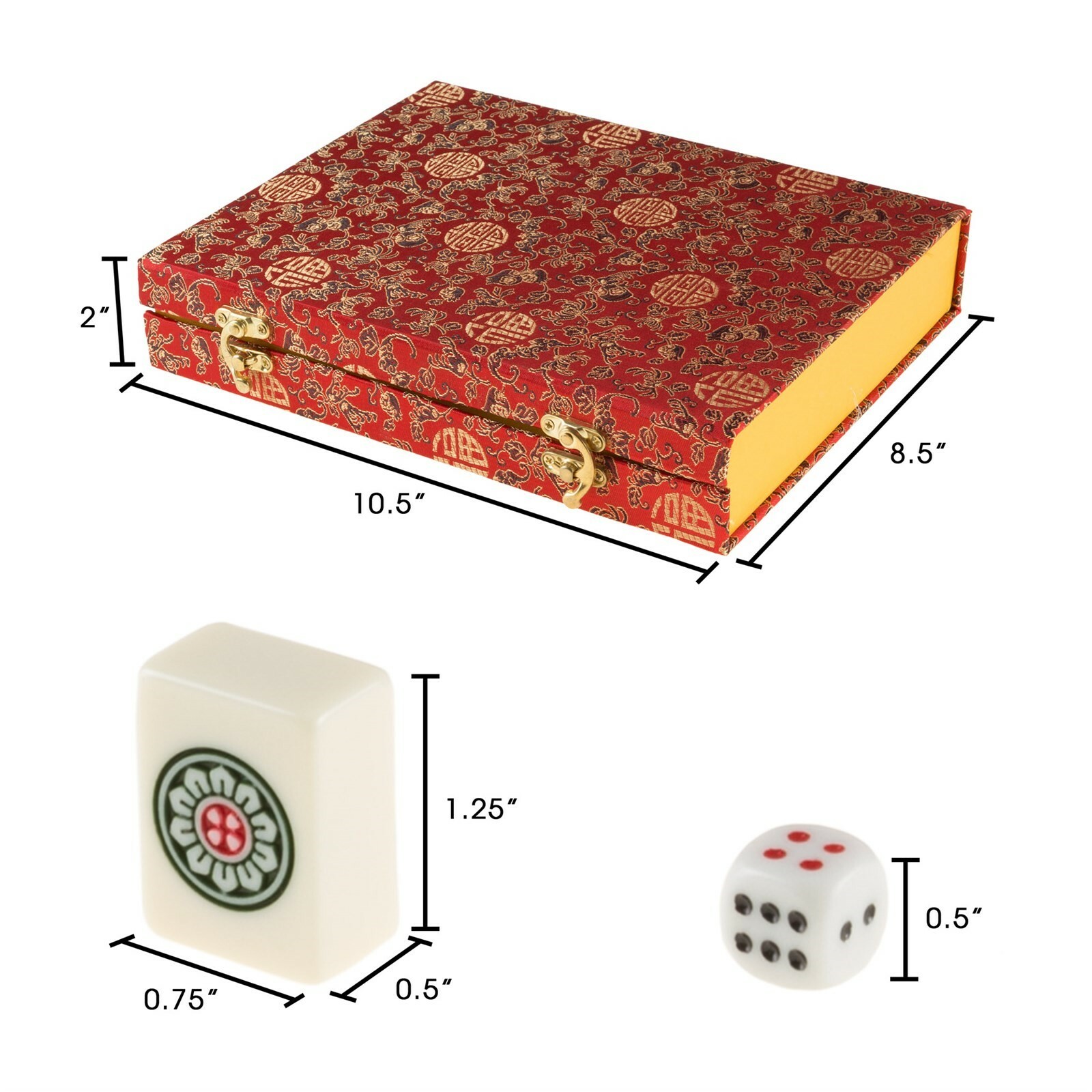 Customer Satisfaction
Return Policy Applicable
Free Shipping, no hidden prices or fees
Secure Payments via Paypal or Credit/Debit Card
Tracking provided for all your orders
Quality Inspection on all products
Found a Better Price? We'll Price Match!
Call (914)-512-8221

 FREE SHIPPING + NO SALES TAX (EXCLUDES NY)
Not Quite Ready to Get Your Product Delivered?
Are you looking to take advantage of a current sale but are not ready to receive your item? Not a problem! All orders from us receive special attention and we can hold items for as long as you need! Call us for more details.