Description
A Small Kitchen Doesn't Mean You're Destined To Wash Dishes By Hand
If you have a small kitchen and don't have the room to install a built-in dish washing machine, you may think you have no other choice but to wash dishes by hand. And since nothing makes a kitchen look messier than a pile of dirty dishes in the sink, keeping up with it all turns into a never ending task. But even if you have limited space, this countertop dishwasher can be a time- and energy-saving solution worth considering. This compact dishwasher sits on the countertop next to your kitchen sink and hooks up to the faucet. This top rated dishwasher holds up to six place-settings of dishes and glassware, and like their full-size counterparts, this commercial dishwasher offers multiple cleaning cycles with various helpful features to give you the perfect cleaning. Do not wait for a dishwasher sale, grab this best deal!

Key Features:

Wash up to six (6) standard place settings on your countertop

dishwasher

. Standing just over 17 inches tall, this compact countertop dishwasher has a low profile that fits comfortably under most cabinetry without permanent installation required.

The

best dishwasher

uses only 200 kilowatt hours per year, approximately 61% less energy than similar countertop dishwashers. In addition to saving energy, this model wastes very little water, which can save you a lot of money on your water and energy bills.

Extremely easy to operate, this portable

new dishwasher

has seven wash cycles and is optimized for holding up to six place settings - with a cutlery basket and cup shelf for organization. A stainless steel interior makes the dishwasher look good no matter where it is, while a powerful spray arm ensures a deep and thorough wash of all your dishes.

The built-in rinse agent dispenser helps to minimize water spotting on dishes, while an internal water heater and the heavy wash cycle eliminate germs and bacteria by boosting water temperature up to 149 degrees Fahrenheit.

With a quick connect faucet adapter and five-foot hose to make hook-up to almost any faucet simple, this dish washing machine will be up to the job of cleaning those dirty dishes. Controlling this unit is easy with the electronic controls and beautiful digital display.
Specifications:
Place Setting Capacity: 6,
Number of Cycles: 7
Number of Racks: 1,
Display Type: Digital
Control Type: Electronic,
Cutlery Tray: Yes
Sanitary Rinse: No,
Spray Arms: 1
dB Rating: 52,
Depth: 19-5/8",
Color: Silver
Height: 17-5/16",
Width: 21-5/8"
Amperage: 5.7A, Voltage: 120V

Package Content:
1x Dishwasher,
1x User Manual
Gallery: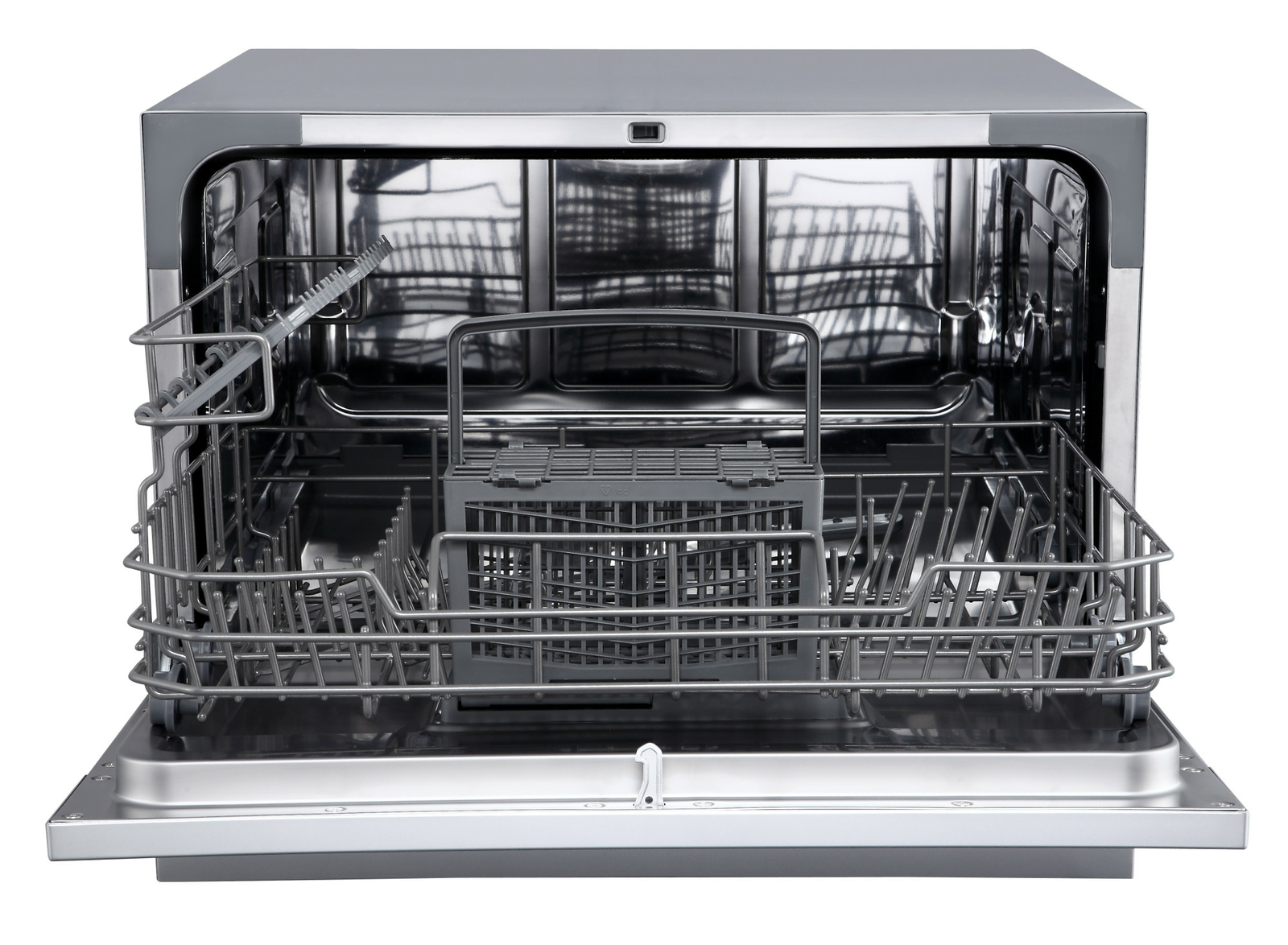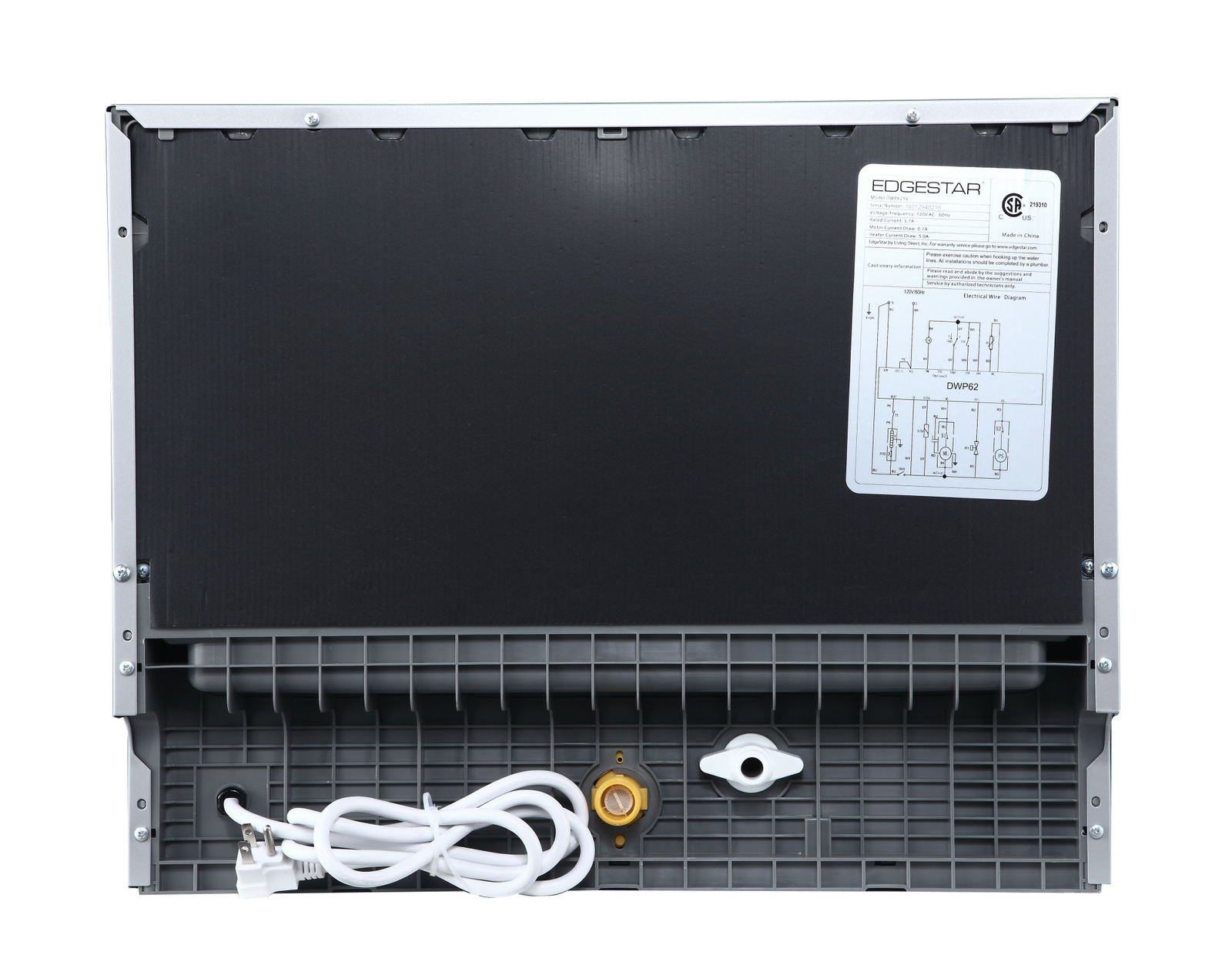 Customer Satisfaction
Return Policy Applicable
Free Shipping, no hidden prices or fees
Secure Payments via Paypal or Credit/Debit Card
Tracking provided for all your orders
Quality Inspection on all products
Found a Better Price? We'll Price Match!
Call (914)-512-8221

 FREE SHIPPING + NO SALES TAX (EXCLUDES NY)
Not Quite Ready to Get Your Product Delivered?
Are you looking to take advantage of a current sale but are not ready to receive your item? Not a problem! All orders from us receive special attention and we can hold items for as long as you need! Call us for more details.