Description
The Most Affordable And Professional Kitchen Mixer Is Here
Using this best stand mixer ensures light and airy cake layers, fluffy whipped cream, and icing that's velvety smooth, plus this stand up mixer is speedier than stirring umpteen times and much easier on your biceps. Unlike hand mixers, this stand mixer frees you to do other tasks while they do the work. This baking mixer can easily be one of the most exciting purchases you ever make for your kitchen, especially if you bake a lot. You won't get this kitchen mixer in any stand mixer sale. This  best affordable stand mixer is the ultimate countertop showpiece for a reason; There's nothing this food mixer can't do!
Key Features:

This

stand mixer

is built with 660W high performance pure copper motor. 6 Optimized speeds with pulse function.

6.2QT/7QT Large stainless steel bowl. Stainless steel decoration belt. Blue LED light as power indicator. Low operation noise ≤76dB.

Dishwasher safe accessories. ETL/FDA Certificate.

Anti-slip pad & Sturdy ABS housing. Tilt-head design mixer allows access to install or uninstall bowls and accessories easily.

Splash guard with an access hatch helps add ingredients during processing without making a mess.

Note:
Multifunctional Food Mixer:

1-3 Speed Dough Hook for heavy mixtures(e.g. bread or short pastry)

2-4 Speed Beater for medium-heavy mixtures(e.g.crepes or sponge mixture)

5-6 Speed Whisk for light mixtures (e.g. cream,egg white, blancmange)
Specifications:
Color: Red
Capacity: 6.2-Quart/7-Quart
Design: Tilt Head
Power Consumption: 660W
Rated Frequency: 60HZ
Function: Dough hook, Whisk, Beater
Rated Voltage: 120V 
Bowl Material: Brushed Stainless Steel (No Handle)

Packing Contents:
1 x Stand Mixer,1 x Flat Beater,1 x Dough Hook
1 x Whisk, 1 x Tilt-up knob, 1 x Stainless Steel Bowl
1 x Bowl cover, 1 x Output shaft, 1 x Speed control dial
Gallery: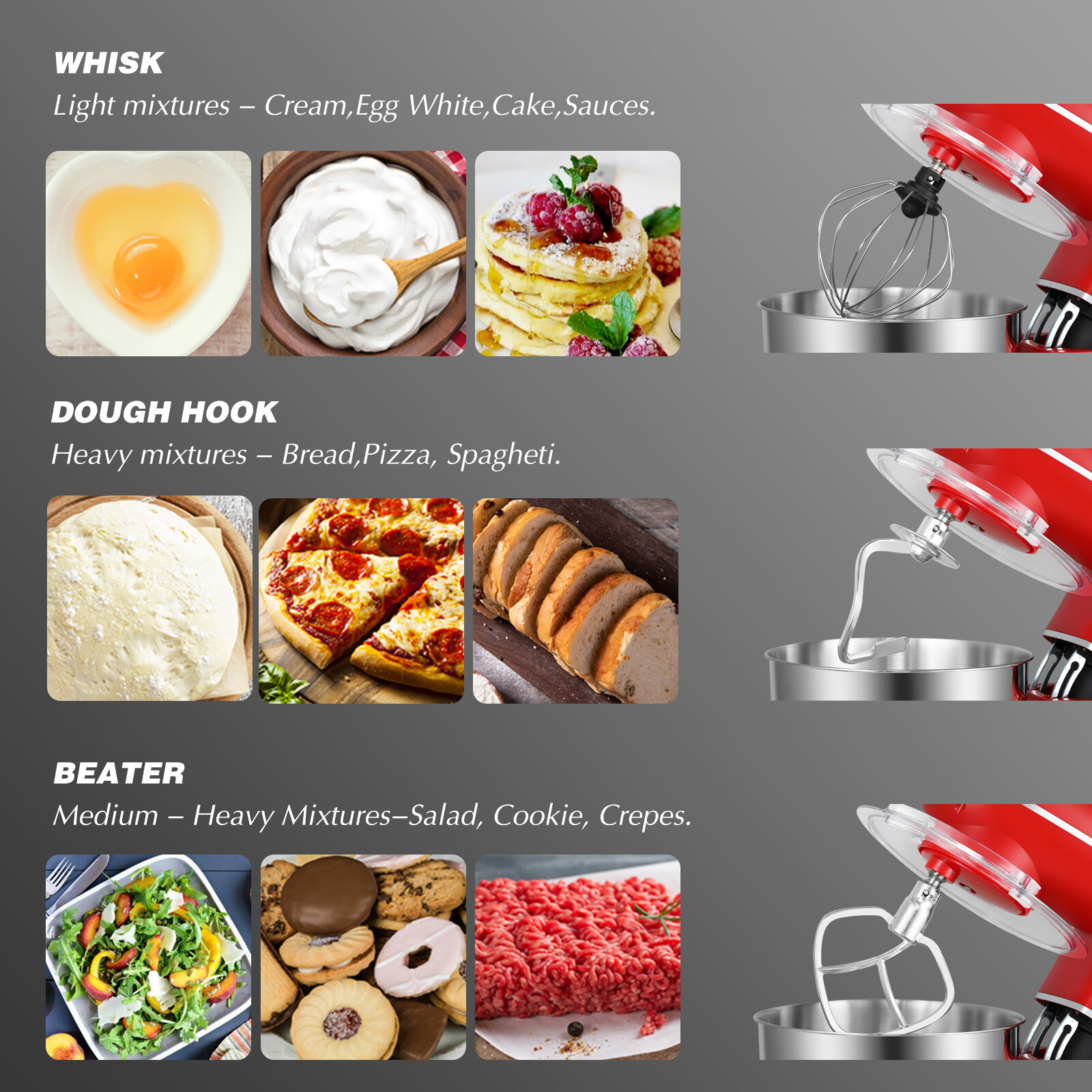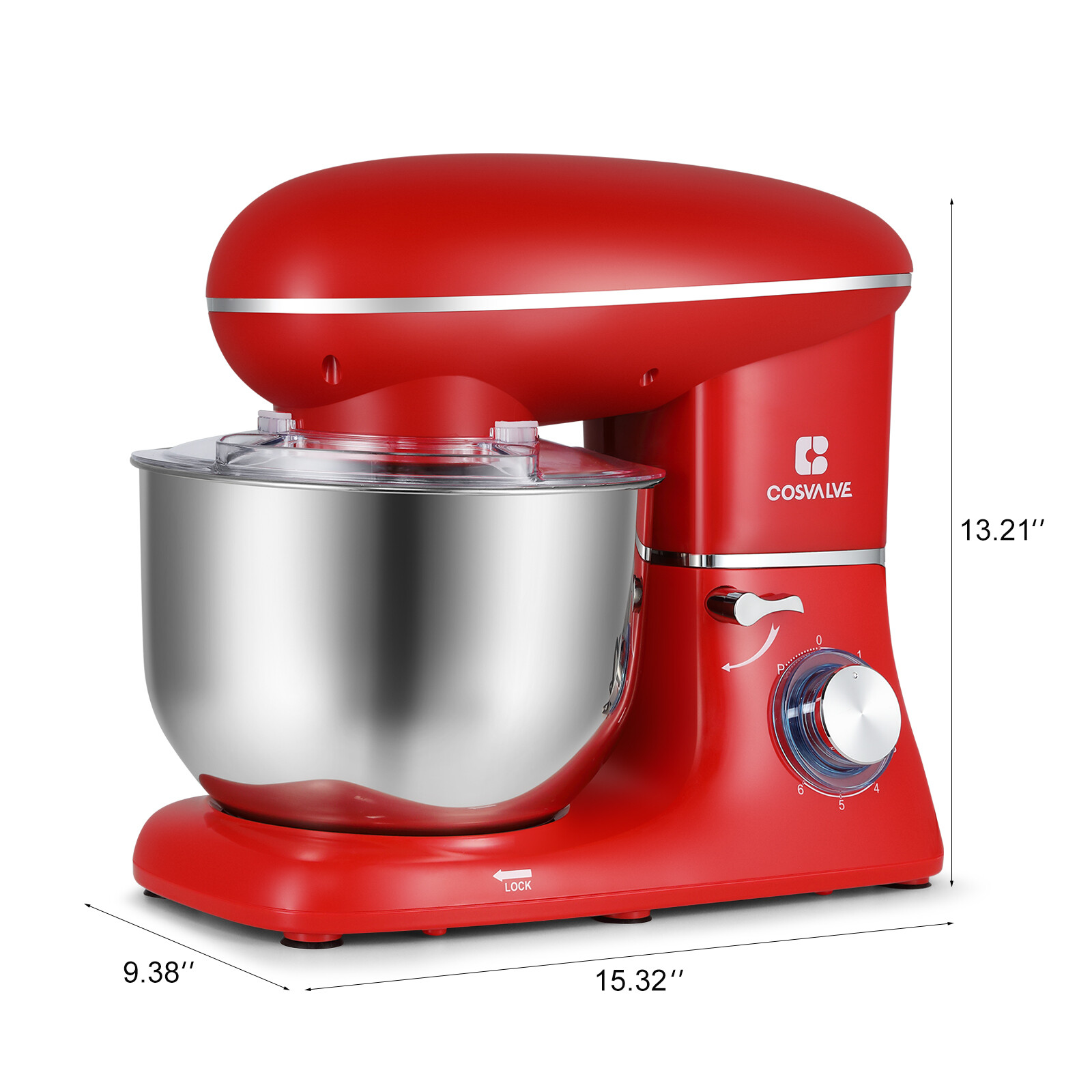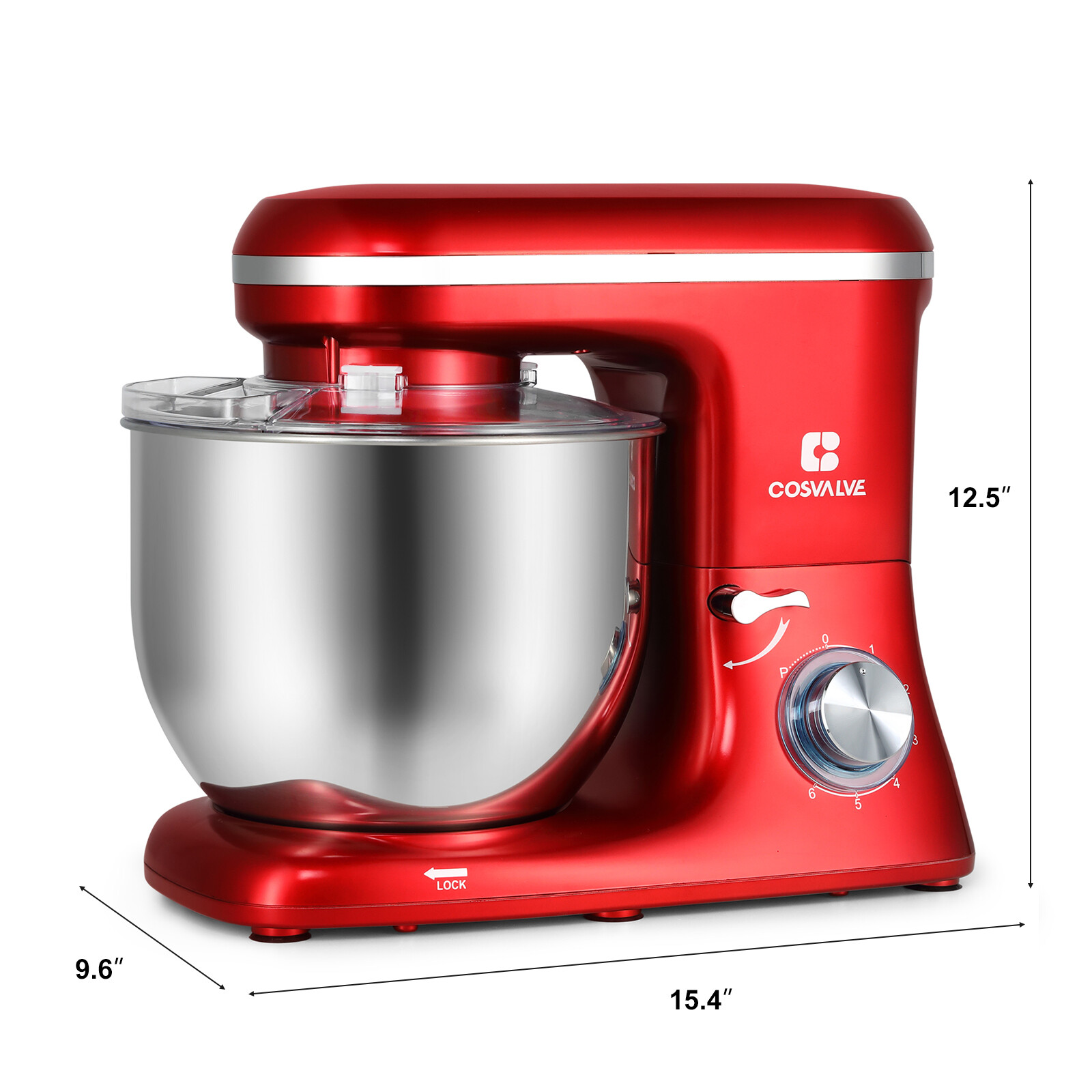 Customer Satisfaction
Return Policy Applicable
Free Shipping, no hidden prices or fees
Secure Payments via Paypal or Credit/Debit Card
Tracking provided for all your orders
Quality Inspection on all products
Found a Better Price? We'll Price Match!
Call (914)-512-8221

 FREE SHIPPING + NO SALES TAX (EXCLUDES NY)
Not Quite Ready to Get Your Product Delivered?
Are you looking to take advantage of a current sale but are not ready to receive your item? Not a problem! All orders from us receive special attention and we can hold items for as long as you need! Call us for more details.