Description
The Best Wall Mount Electric Fireplace Is Here!
A wall mount electric fireplace, also known as a wall fireplace or recessed electric fireplace, is a great way to experience having a real fire in your home without the unit taking up too much space. This wall mounted fireplace don't need to be recessed into a wall like other forms of electric fireplace, and so they can be easier to install and can mounted on most flat walls in your home. This mounted fireplace is designed to be as thin as possible so that it doesn't protrude too far from the wall. Even though it can be thinner than other types of fireplace, it can still produce great looking flame effects and can warm your home at the same time. These types of electric wall fireplace are therefore a great investment for your home.

Key Features:

The infrared heat design is perfect for maintaining the natural humidity within the air and also keeps the room natural humidity. The electric fireplace is not real flames that means it needn't use gas, ethanol, propane, or gel cans. Besides it has auto-heat kill safety to avoid the superheating.

Multi operating design. This

electric fireplace wall insert

has 5 flame speed modes and 5 flame brightness levels which can be adjusted according to your needs, 1 hour to 8 hours timer control and sleep mode with lights down it meanwhile the heating will create a more comfortable environment for your sleep, the flame color and brightness will change automatically.

2 heat settings and energy saving. There are two heat settings about this electric fireplace, 750w & 1500w for different rooms and weathers which can be adjusted accordingly for both warm and energy saving purpose. The technology of LED saved energy. The supplemental zone heating is for up to 400 square feet.

Realistic flame effects. There are 12 flame colors and 12 flame bed colors for you to choose, it will give you a great visual experience via crystal glass decoration.

It' s easy to install this electric fireplace, it includes wall mounted brackets and two stands. So it can be installed on the wall, stand on the desk, or in-wall mounted.
Specification:
Main Material: Metal
Power: 5100 BTUS,120V
Weight: 38lbs
Color: Black
Rated Power: 750W/1500W
Product Dimension: 36"L x 17.7"H x6.5"W

Package Content:
1xHeater
1xRemote Control
1xInstruction Manual
Gallery: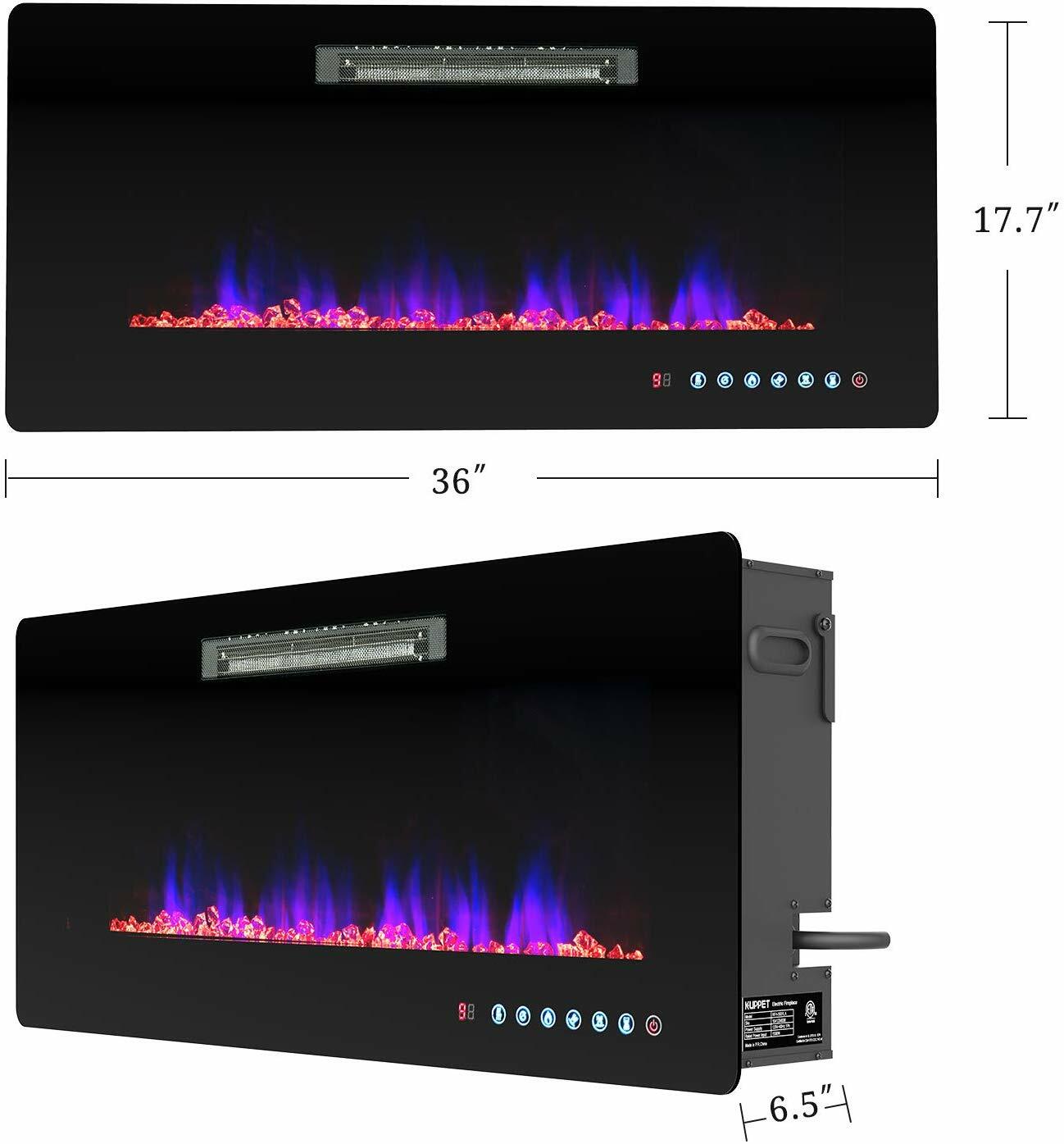 Customer Satisfaction
Return Policy Applicable
Free Shipping, no hidden prices or fees
Secure Payments via Paypal or Credit/Debit Card
Tracking provided for all your orders
Quality Inspection on all products
Found a Better Price? We'll Price Match!
Call (914)-512-8221

 FREE SHIPPING + NO SALES TAX (EXCLUDES NY)
Not Quite Ready to Get Your Product Delivered?
Are you looking to take advantage of a current sale but are not ready to receive your item? Not a problem! All orders from us receive special attention and we can hold items for as long as you need! Call us for more details.