Description
Cut The Grass With Minimum Effort With This Electric Lawn Mower
Are you looking for a suitable electric lawn mower for your lawn? Unlike a cheap lawn mower This lawn mower with a large capacity collection box is a good choice for you. With detachable design, it is easy and convenient to dump weed out from the box. And there are three positions of height you can adjust by yourself to cut various kinds of grass. The ergonomic grip and four heavy-duty wheels of this best electric lawn mower will add comfort and convenience when you push the mower on the grass. And the design of button and trigger ensure the safety of operation. The strong power motor of this push lawn mower drives the blade to help to clean your yard faster. You can store this lawn mower in the corner of your garage or warehouse because the pole can be folded and won't take up too much space.
Key features:
These

lawn mowers for sale

have three adjustable heights to cut all kinds of weed. Powerful motor and sharp blade to elevate weeding efficiency

The

best lawn mower

with a curved and ergonomic grip for comfortable operation. Detachable collection box with large capacity

Can be stored in a limited place with foldable design. Dual switch design to avoid starting by mistake. Stylish and concise appearance of lawn mower. Easy to assemble by yourself in short time
Specifications:
Color: As picture shows,
Material: Steel, Plastic,
Color: green
Item Weight: 18lbs,
Power Input: 1200W
No Load Speed: 3500RPM,
Cutting Width: 12.5''
Grass Height Settings: 0.8''/1.5''/2'',
Capacity of Grass Box: 25L
Overall dimension: 36"x14"x11.5"
Package content:
1x Lawn Mower,
User manual
Gallery: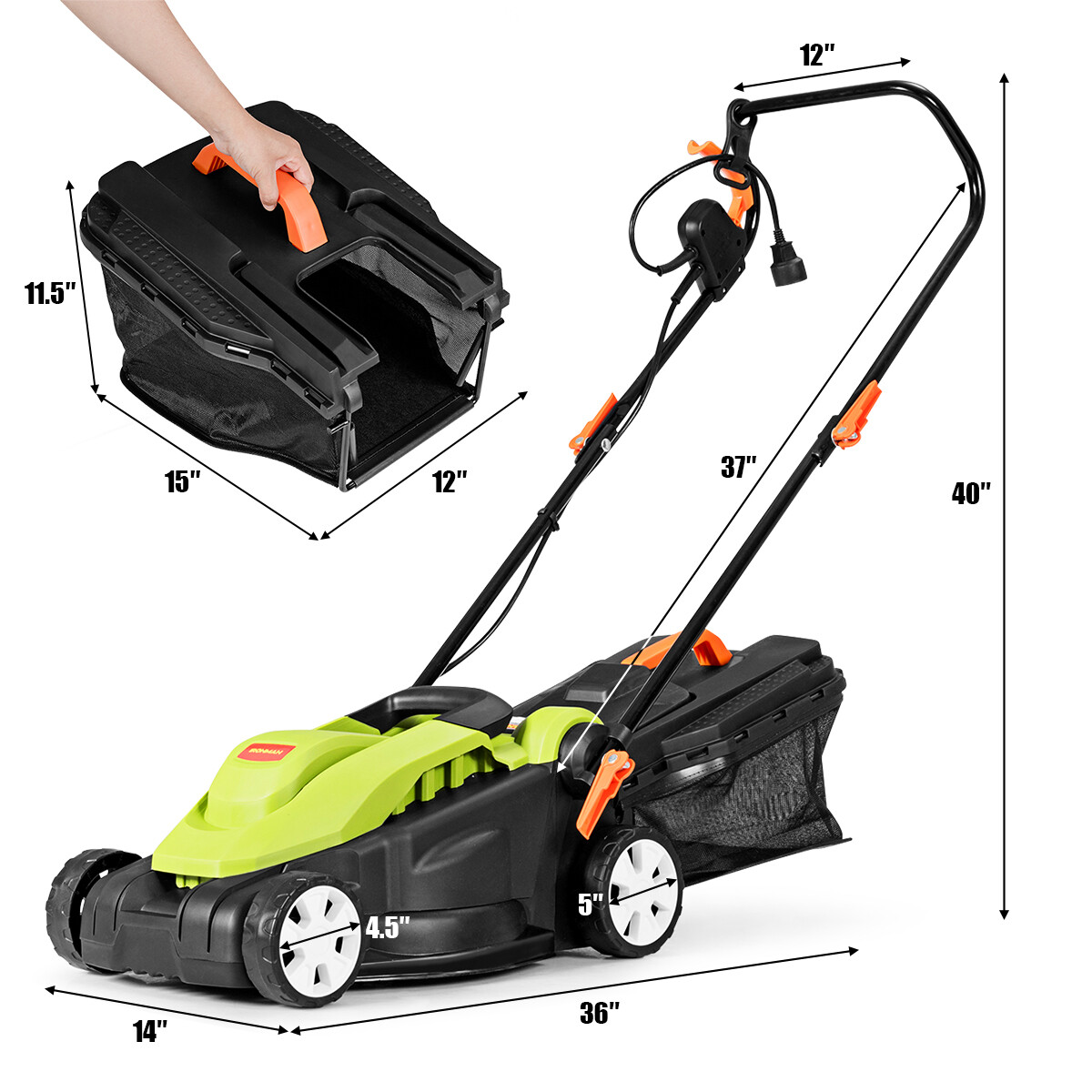 Customer Satisfaction
Return Policy Applicable
Free Shipping, no hidden prices or fees
Secure Payments via Paypal or Credit/Debit Card
Tracking provided for all your orders
Quality Inspection on all products
Found a Better Price? We'll Price Match!
Call (914)-512-8221

 FREE SHIPPING + NO SALES TAX (EXCLUDES NY)
Not Quite Ready to Get Your Product Delivered?
Are you looking to take advantage of a current sale but are not ready to receive your item? Not a problem! All orders from us receive special attention and we can hold items for as long as you need! Call us for more details.